Christians Against Poverty (CAP) is a national charity aimed at helping people to get free from poverty and debt. At TVC Church, we operate a CAP Centre, offering support, expertise and training for those who are struggling financially.
Here is what has been going on with CAP in the last few months:
Debt Free
Dealing with debt is difficult and is often a long road. But we are thrilled to report that after 4 years of working with us, just a few weeks ago, one of our clients became debt free!
What a way to begin the New Year without the burden of debt! We absolutely love that we are able to walk beside people and to help them find their way out of debt.
Our CAP Centre Manager, Julie Parker currently has 38 clients who are on their journey to becoming debt free and has just taken on 3 more clients. She writes "I am so pleased to have got them on the journey before Christmas", a time when the weight of debt can seem unbearable.
Links with Three13 and Community Grocery
Naturally, the links between our outreach ministries is strong. Julie visits the Community Grocery each Tuesday and spends her afternoon being on hand to meet and support any Grocery client who needs some debt support. She of course recommends that her clients visit the Grocery as a means of receiving good food in an affordable way. Here is what one of Julie's clients had to say about the Grocery:
"I have just been over to the community shop and they were absolutely lovely with me. I have taken my friend over so we've both signed up and I've come away with a load of shopping. I will definitely take more than one beg with me next time! Thank you so much for the heads up on that!"
Julie also works with any of our Three13 learners who require her support and brings her clients who are without work over to Three13! She asks us to pray at the moment for one of her clients who is battling cancer and is out of work. She was so thankful to be able to introduce him to our Three13 staff and volunteers and knows he will be shown the same love and care with them.
CAP Hampers
Way back in November, when Christmas still seemed miles away, we asked you to consider donating some of the luxury Christmas items that would be an unreasonable expense for somebody who is working with Christians Against Poverty, to overcome their debt .
Julie was able to bless each of her clients with a wonderful hamper, packed full with loads of the goodies that many of us would take for granted at Christmas time.
What a joy it is to be able to offer practical love and support to so many families as well as sharing with them the joy that only Jesus brings.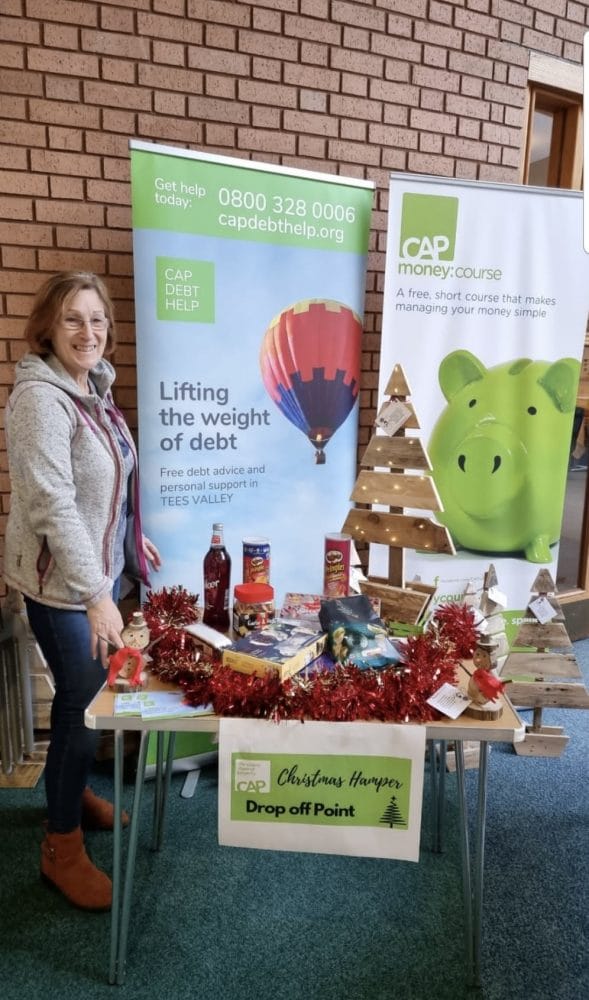 Please do keep praying for Julie and her team of volunteers as they meet with people who are in real distress. Pray that God would reveal himself to each client this Christmas.