Eden
TVC Church, like many churches nationally, partners with The Message Trust in the Eden Network. The focus of this partnership is to establish mission-minded communities that are recognised by the government as being in the bottom 10% economically.
Our partnership with Eden goes back many years and together we have established 3 teams over that time on Teesside. We continue to see the fruit of this partnership and celebrate the many stories of lives transformed at our baptism services.
Ragworth and Primrose Hill Eden Team
The Eden team, led by Paul Connor who lives in the heart of this community.  We, as TVC Church, own a building in the area, which we have called 'The Shack'.  It operates as a hub for community engagement. The team meet regularly at The Shack to run a breakfast club, youth club and courses that are designed to upscale people's life skills.  It is a real hub of community activity that is focussed on building relationships and sharing God's love.  The team also host a monthly church service called 'TOAST' which stand for 'Time On a Sunday Together' which aims to build a family of faith on the estate.
Find out more about what is happening at The Shack by visiting their Facebook Page.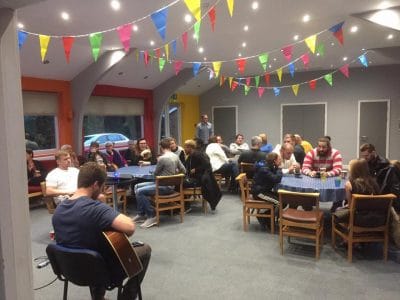 Parkfield & Oxbridge Eden Team
The Eden team, led by Steve Sewell, who, like all Eden Team leaders, lives in the heart of the community.  This team does not have the luxury of a building and centre. The focus of this ministry is through team homes, particularly on Shaftsbury Street in Stockton. We meet in the open for prayer and food distribution, engaging and praying with people in the community. As a team, we have a great partnership with the Moses Project and the Junction 42 Connect Missional Community as we reach out to people with the love and compassion of the gospel.
Easterside Eden – Legacy
Tony Grainge and a faithful team of people have served the community of Easterside, Middlesbrough, for 10 years as an Eden Team. Through this team, we have impacted and transformed not just lives, but the whole community in a variety of ways. In 2021 we formally moved the Eden team to a Legacy status. This was to acknowledge that Tony's role had expanded wider than Easterside and although work is still ongoing into the community it is no longer Eden shaped. We thank God for the incredible impact that this team has had on the estate with the various team members working alongside Tony and Steph over that time.