Did you know that not all of our TVC Church activities happen at The Oakwood Centre? We have a number of projects and activities that happen across Teesside.
'The Shack' is easily one of our busiest and most vibrant venues. Situated right in the heart of the Ragworth estate in Stockton. You may have heard about it being the home of our Community Grocery, but it is so much more than that. It is also the home to our Ragworth Eden Team who live and work as part of this community to bring hope to all.
This quieter season of restrictions has seen The Shack come back to life. Here is what has been going on:
Lunch Club and Breakfast Club
Each Tuesday we open the doors of the Shack for our Lunch Club where you can get a tasty home cooked meal for just a few quid and a friendly welcome too. Then on Friday mornings, bacon butties are the order of the day for our Breakfast Club.
Jennie caught us up on what has been going on…
"Lunch and breakfast club have seen a 50% increase in attendance in the last month – So are having to provide much more food! The team is now engaging in meaningful conversations every week with these members of the community and regularly referring on to other events and opportunities both here at the Shack and at The Oakwood Centre.
TOAST
T.O.A.S.T stands for Time On A Sunday Together and it is our monthly worship gathering at The Shack. It has been wonderful to be able to get back to worshipping together and we have enjoyed welcoming our community to join with us.
Advance Ladies
You may have heard of 'Advance' which is an evangelism training group brought to us through our partnership with The Message. We have started inviting ladies with an evangelistic heart to gather together at The Shack once a month. We now have a small group of ladies coming together to grow in discipleship and hold each other in prayer, wisdom and accountability as we seek to go even deeper in our evangelistic journeys.
Youth
Friday night is Youth night down at The Shack. Zoe and the team have been really encouraged to see loads of new faces as we have got back into full swing, but her biggest joy has been in welcoming those who enjoyed the group when they were younger, to step up into leadership. We just love that The Shack is such a place of welcome, safety and connection that even when they are too old for youth, it is still where they want to be on a Friday evening!
Table Top Games
On the first and third Sunday of each month, The Shack opens its doors to welcome those with a competitive nature to join together for a night of games. This is another way in which our presence in the community is providing a safe and positive place to join with others, make connections and ultimately experience the love of God.
Other Gospel Opportunities
Over the past few months, not only have our team run all these weekly groups, but they have also used them as opportunities to invite members of the community to:
2 round of 'The Wellbeing Journey' course
a '4 points' Course
an Alpha Course
2 run throughs of the cookery club
a CAP money Course
Community Grocery
As if all that wasn't enough – The Shack is also home to our Community Grocery! But we have so much to say about it that we have given it its own post. You can read about that here.
Celebrations!
On Saturday 4th December we Celebrated our first wedding at The Shack! Congratulations to the lovely Lewis and Zoe Connor who are a huge part of our Eden team. The Shack seemed the perfect place to celebrate this TVC Wedding.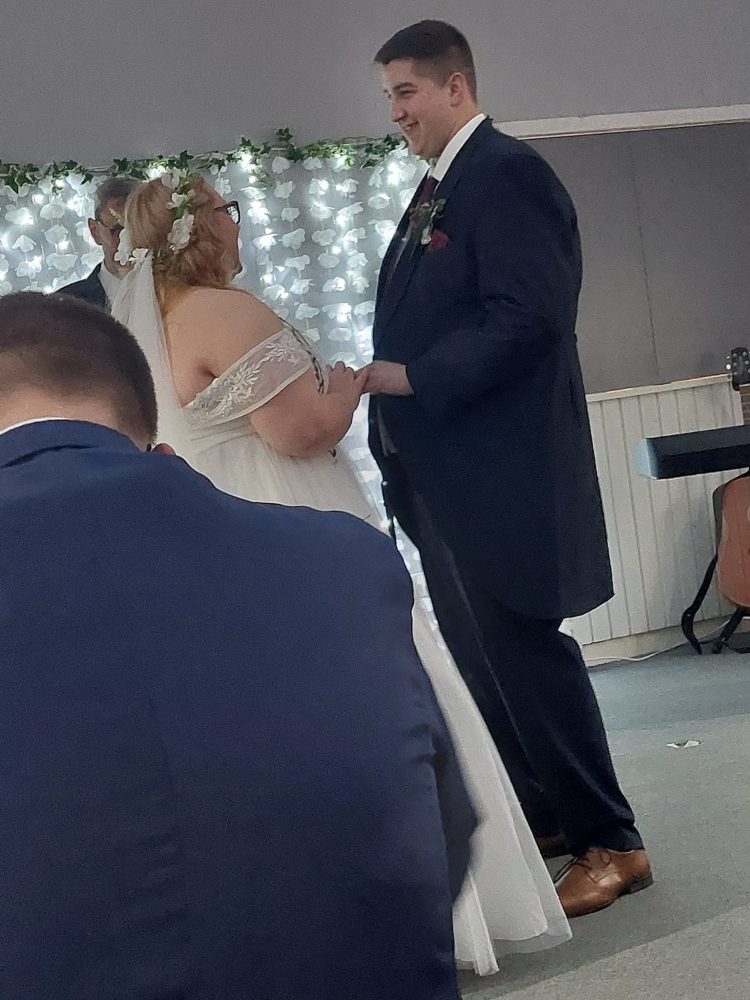 Those of you who were able to be at our Baptism Service on Sunday 28th November will remember that this was a huge day of celebration for us all, but especially for the team over at The Shack as we celebrated Bernie's baptism.
Over the last 7 months Eden Ragworth, has journeyed with Bernie through his salvation journey. Through daily prayer meetings, discipleship with Paul, advance groups, lunch club, breakfast club, TOAST and other events and groups. His baptism was a huge celebration for us. Despite snow causing some invited guests to cancel, we still had 3 guests joins us to hear his inspiring testimony and witness this amazing event. Our whole team were deeply moved as were our guests.
We hope you have loved hearing a little snippet about everything that God is doing through the work of our Ragworth Eden team over at The Shack. Do pray for them all and ask God how he would like you to get involved in this amazing ministry.
You can watch Bernie's Baptism again here: