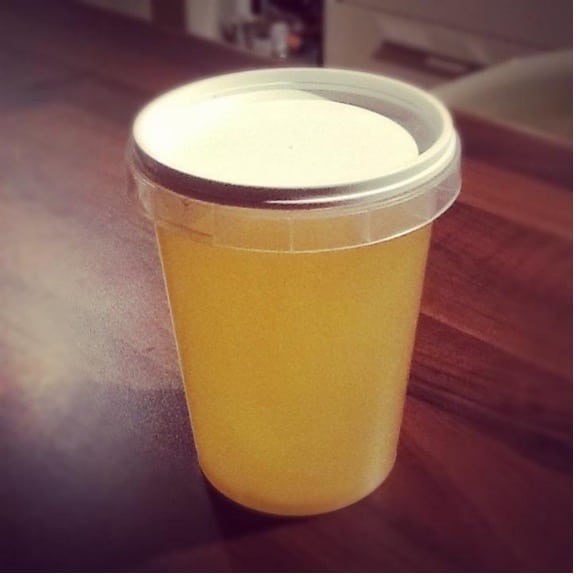 You may be wondering what this rather ambiguous picture is (no, it's not a 'sample' pot!)
Many years ago, I worked in a Category A prison, helping prisoners get free from addiction. Most of the crimes committed by those men were very serious and the majority were serving very long sentences as a result, many of them life-sentences. The spiritual darkness and sense of human decay was tangible. On one particularly difficult day, an officer gave me this…a pot of prison honey. In the middle of that seemingly dark, hopeless place was a garden and in that garden, there were beehives. Bees flying freely over the 20-foot, barbed wire-clad walls, to the countryside beyond, unnoticed by officers and guard dogs, bringing back pollen and nectar to make their honey. I took my pot of honey out of the prison gate, sat in my car and wept. That little pot of honey was a profound reminder that there is no place out of God's reach. Even in that dark, bitter place, there was sweetness.
Psalm 139:12 says:
even the darkness will not be dark to you;
the night will shine like the day,
for darkness is as light to you.
It's tempting to think of God's light like the beam of a torch, shining into the darkness and illuminating one little spot, but that's not how it is. The darkness is no match for the light. It's not an equal fight at all. When the power of God shows up, even a little bit, the darkness has to flee. When we begin to pray and declare the power of God into desperate, hopeless situations, they begin to shift. When the light begins to shine in the darkness, hope grows and we are able to see things as God sees them. The impossible, becomes possible. It's not a torch-beam, it's the sunrise!
I want to encourage you today to pray into the really difficult situations in your own life, the lives of your friends and family and the World. Here are some examples:
Pray for prisoners and prisons: Prisons are just starting to open to visitors again, after 18 months of lockdown, where in most prisons, prisoners have been locked in their cells for 23 hours a day to protect them from Covid. Pray for Pete Conroy and the Junction 42 team, bringing the Gospel to Northeast prisons.
Pray for North Korea, the most dangerous Country in the World to be a Christian, where it is estimated there are around 50-70000 Christians in prisons and labour camps because of their faith.
Pray for Christians in Muslim countries where they must keep their faith completely secret, or risk persecution, imprisonment and death.
Pray for the women of Afghanistan, who are struggling to keep their freedoms under Taliban rule. Education for girls is slowly being withdrawn. Many women are no longer allowed to work. Women are increasingly at risk of violence, abuse and child marriage.
Let's believe that even in these very dark situations, our prayers are penetrating the deep darkness and the power of God is unleashed!